Taj Films Production
From the Audiovisual Identity Database, the motion graphics museum
Credits
Descriptions by
Tabit
Captures by
Tabit
Editions by
Tabit, LMgamer36
Video captures courtesy of
The Annoying Commenter (Tabit)
Logo (May 28, 1987)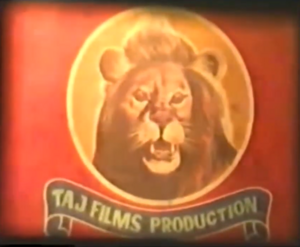 | | |
| --- | --- |
| | The video of this logo may be too loud or severely distorted. |
Visuals: On a red background, there is a circular picture of a lion with a white border surrounding it. Below that is an MGM-like filmstrip at the bottom with the company name "TAJ FILMS PRODUCTION" in the filmstrip.
Technique: None.
Audio: A dramatic vibrphone glissando with an orchestral sting, then an announcer saying something.
Availability: This can be only seen on Da Juwand Bazi.
Cookies help us deliver our services. By using our services, you agree to our use of cookies.