K.K. Movies
From the Audiovisual Identity Database, the motion graphics museum
Credits
Descriptions by
Tabit
Captures by
Tabit
Editions by
TVB
Video captures courtesy of
Shane Latto The Wilkins Coffee Guy 2009
Logo (July 21, 2000)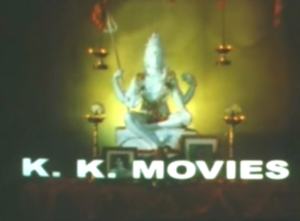 Visuals: There is a closeup of a statue of Shiva (which looks similar to the one used in Aarti Pictures) against a bunch of yellow smoke. The camera then slowly zooms out, which reveals that the statue is on top of a pedestal surrounded by four candles and a two picture frames of two men. After a few seconds, the text "K. K. MOVIES" in white zooms in from the bottom of the statue and stops.
Technique: Live-action along with 2D computer effects.
Audio: The sound of a horn, followed by faint bells dinging, then a deep announcer saying something in Hindi.
Availability: Seen on Kaala Mandir.
Cookies help us deliver our services. By using our services, you agree to our use of cookies.