Shiva Video
From the Audiovisual Identity Database, the motion graphics museum
Credits
Compiled by
Tabit
Video captures courtesy of
Wilkins the Library Music Fan
Logo (1990's)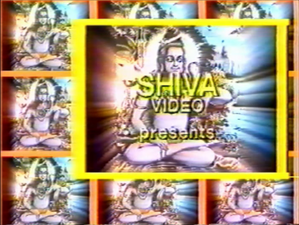 Visuals: On a black background, there is a rotating sphere of an image of Hindu god Shiva against a bunch of plants travelling towards the left side of the screen. Half-way there, the sphere expands to reveal the full image of Shiva which appears to be setting off a bunch of light rays, and covers the entire background. Finally, a set of text reading:
SHIVA
VIDEO
presents
appears from the top-right portion of the screen, leaving a trail and zooms in towards the camera for a short period of time. It stays on-screen for a few seconds until it travels back to the top-right corner.
Technique: Primitive computer animation.
Audio: A chorus chanting "Om Namah Shivaya" four times, followed by a melody from a tabla and a sitar.
Availability: This was seen on Bollywood releases from the company such as When? Why? And Where?.