The Best
From the Audiovisual Identity Database, the motion graphics museum
Logo (1989)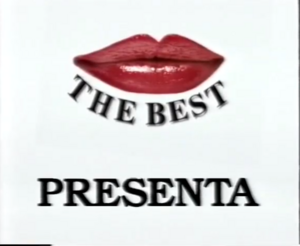 Visuals: On a white background is chroma-keyed live-action lips, them looking to the right. A chroma-keyed hand puts a cherry in the mouth, and the footage becomes reversed. After back and forward footages, the mouth finally puts the cherry in itself, and the lips turn to the viewer. Black words "THE BEST" in an arc fade in below the lips, and the logo slightly moves up for the fading-in black word "PRESENTA".
Technique: Live-action with chroma-keyed effects combined with 2D computer animation.
Audio: "You Can Leave Your Hat On" by Joe Cocker.
Availability: Seen on La perdizione di Ajita.