Subhalaxmi Films
From the Audiovisual Identity Database, the motion graphics museum
Credits
Descriptions by
Apaorebes
Captures by
Tabit
Editions by
Tabit
Video captures courtesy of
Patya69
Logo (December 6, 1990)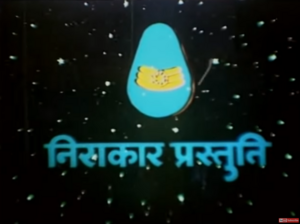 Visuals: On a space background, a blue candle-like shape zooms in. Three yellow lines with a star inside it then appears, and then the Nepali name of the company appears below the symbol.
Technique: Choppy and outdated 2D animation.
Audio: Weird space sounds play throughout.
Availability: Seen on Bijay Parajay.
Legacy: This logo rather has a strange theme, due to the strange sounds and the logo suddenly zooming in. [possible misuse]