Andes Distribuidora Organización Cinematográfica Argentina
From the Audiovisual Identity Database, the motion graphics museum
Credits
Descriptions by
Tabit
Captures by
Tabit
Video captures courtesy of
Mister Suitcase
Logo (March 10, 1953)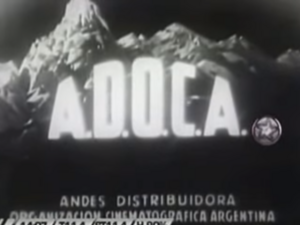 Visuals: Against a snowy mountain range (known as the Andes Mountains) on a sky background, there is the abbreviation of the company "A.D.O.C.A." in white with the top bulging out slowly zooming in. When it gets close, it stops, as the company's name:
ANDES DISTRIBUIDORA
ORGANIZACION CINEMATOGRAFICA ARGENTINA
in white wipes in below.
Technique: Motion-controlled animation.
Audio: A long drumroll which segues into a triumphant orchestral fanfare.
Availability: It was only seen on Un ángel sin pudor.