Golden Dragon Films
From the Audiovisual Identity Database, the motion graphics museum
Credits
Descriptions by
Tabit
Captures by
Tabit
Video captures courtesy of
Santiago Reveco Lepe Reborn
Background
Golden Dragon Films was a Hong Kong-based Taiwanese film company.
Logo (21 October 1977)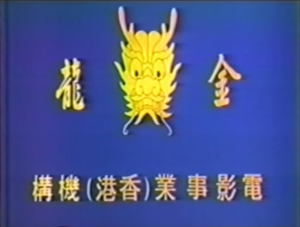 Visuals: On a blue background, there is the head of a gold-colored Chinese dragon surrounded by 2 handwritten Mandarin characters (which both translate to "Golden Dragon"). Below it is the gold text "Film Business (Hong Kong) Organization" in Mandarin.
Technique: None.
Audio: A 2-note dramatic fanfare can be heard with the first note being held.
Availability: It was only known to appear on The Proud Horses in Flying Sand/怒馬飛砂.